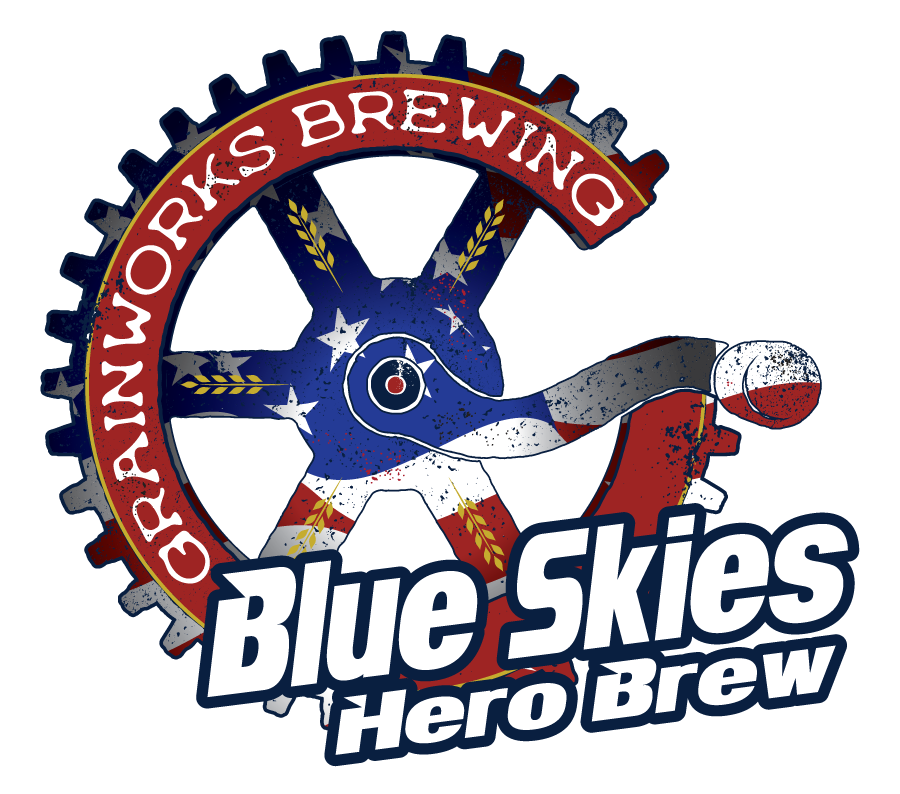 Hero Brew
A Blue Skies and Grainworks Collaboration
Raise your glass and support our Nation's Heroes by going to any of the participating bars below and saying, "Give me a Hero!".
Proceeds from the Blue Skies Hero Brew benefits combat injured warriors & fallen hero families.
An American Amber style ale, this beer is brewed as a patriotic partnership between Blue Skies for the Good Guys And Gals Warrior Foundation and Grainworks Brewing Company
Grainworks is located in West Chester Ohio and is built on the same soil from which Cincinnati's greatest breweries harvested their grain. Grainworks Brewing pours that rich history into every glass. It's beer with a heritage. It's beer with a soul.
Participating Bars
American Legion Post 194 - Mason, OH
Bargo's Grill and Tap - Centerville, OH
Bargo's Grill and Tap - Fairfield, OH
Brixx Pizza - Mason, OH
Buffalo Wings and Rings - West Chester, OH
Firehouse Grill - Blue Ash, OH
Grainworks Brewing Co. Taproom - West Chester, OH
Lucky Dog Grille - Mason, OH
Rusty Bucket - Deerfield Twp., OH
TGI Friday's - Colerain, OH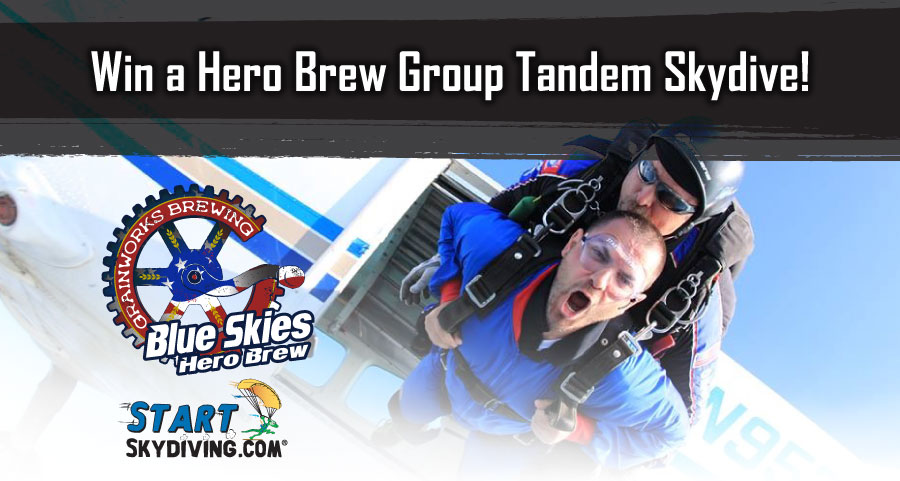 The prize is a group Tandem of 4 to take place during the Warrior Weekend To Remember, July 10th-14th 2019.
Only one entry needed to win. You can gain extra entries by sharing on social media. Use the social media links that appear after registering.
1 winner will be selected July 4th, 2019. Winner will be announced on Facebook and will be notified by email.
The entry form will appear below January 1st. Good Luck!
Click through the 'read more' link below for full information and rules.
Find Hero Brew At Local Festivals This Summer
Liberty Center Presents Summer Concert Series
Beer Proceeds Benefiting Blue Skies for Good Guys and Gals Warrior Foundation
Join us in The Square every Wednesday night this Summer for our Summer Concert Series! Concerts will be from 6 - 9 PM on the stage in The Square each Wednesday from June - August. Concerts are subject to delays and cancellations due to weather.  Guests are permitted to bring their own blankets and chairs. Grainworks Brewing Company and Blues Skies Volunteers will be onsite selling alcohol.  No outside alcohol is permitted. Web: https://www.liberty-center.com/events/detail/evr/1/summer-concert-series-63
June 6th: The Chuck Taylors
June 13th: Bluestone Ivory
June 20th: 3 Piece Revival
June 27th: DV8
July 4th: Smoooth
July 11th: Nick Netherton
July 18th Bad Habit
July 25th: Amy & The Arrangement
August 1st: The Mistics
August 8th: The Good Hooks
August 15th: Leroy Ellington
August 22: Johnny Clueless
August 29th: Naked Karate Girls
Austin Landing Event, Miamisburg, Ohio
First Friday Food Truck Frenzy & Concert, Friday, July 6th, 6:00 - 10:30 PM.
Join us for a concert with Arctic Clam and The Menus  in The Park at Austin Landing. All proceeds Benefit Blue Skies. Join us for some good Food Truck eats, Cold Grain Works Hero Brew, and a show to remember! Tickets are $5  - 100% of the proceeds go to a local non-profit! Opening Ceremony American Flag SkyDive from our friends at Team Fastrax. Pyrotechnic SkyDive at Night from our friends at Team Fastrax. Web: http://austinlanding.com/events/month/2018/07/
Military Appreciation Night, Wednesday, July 11, 7:00 – 9:00 PM.
No charge to enter. Music from Mix 107.7 and celebrity DJ Jeff Stevens. Chance to win $10,000 with our WorkDay Payday giveaways. Giveaways from our stores and restaurants. Free samples from Chuys, BJ's and Dewey's. Blue Skies Volunteers serving Grainworks Hero Brew. All proceeds benefit the Blue Skies for Good Guys and Gals Warrior Foundation.