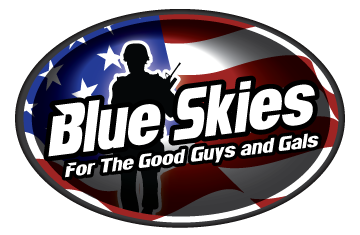 Help Give Our Nation's Warriors A Weekend To Remember
July 18th-22nd 2018
The 2018 Team Fastrax™ Warrior Weekend To Remember aligns with the Ohio Challenge 2018. Planning meetings will start in January 2018, on the third Wednesday evening of each month from 6:30pm-8pm, location TBD at Austin Landing. All/anyone interested in supporting the weekend is welcome, especially alumni and Ambassador Warriors that are local.
Blue Skies for the Good Guys and Gals Warrior Foundation's mission is to honor our nation's veterans, Purple Heart Warriors and the families of fallen heroes by providing enriching, life changing experiences that facilitate new friendships and emotional healing.
The SELECTiON.COM® Ohio Challenge Hot Air Balloon Festival and Team Fastrax™ Warrior Weekend to Remember is family oriented and fun.  There are many public events where you can honor and meet over 40 combat injured warriors and more than 8 Gold Star Families who have made the ultimate sacrifice in losing a loved one in combat service to our Nation.
 ***Please note that this event is not associated with the Wounded Warrior Project based in Jacksonville, Fl.  We are 100% supported by the Blue Skies for the Good Guys and Gals Warrior Foundation.  100% of your donations go to support our Veterans and Gold Star Families.***
How Can You Participate In This Weekend?
Here are this year's public events:
Exclusive Warrior Only Events
The TFX WWTR would not be possible without our many generous sponsors, donors, supporters, volunteers and fundraisers. The Blue Skies for the Good Guys and Gals 501c3 is proud of our enormous volunteer base. It's comprised mostly by the employees of corporations, members of clubs and volunteers of other veteran focused non-profits. All of whom 100% buy into the life changing outcomes we seek for our honored combat injured warriors and fallen hero families. There are none to our knowledge that do it for any sort of marketing benefit or recognition. Having stated that, we are proud to take this moment to acknowledge them here. THANK YOU!
Presenting Sponsors
SELECTiON.COM® | Segue Technologies
Full Warrior Sponsor ($4,000+)
A. Ross Family | AFCEA San Antonio Foundation | Austin Landing | Bill Wilch 5k 2017 | Cabela's | City of Mason | Dayton Business Journal | DHL | Evanhoe Associates | Exeter | Gartner | Horsepower Farm/Willis Family | JP Hart Jr. Family | Kroger | Maclogic | Miamisburg Sportsmen's Club | Moyer Management Group | Muddy Buddys | Quantrum | Rocky's Run for Freedom | Start Skydiving | Sun Coke | T. Ryan Family/TD Datalink | Team Fastrax™ | The Conner Group | Tricor | USVMCOH | VFW Post 3809 Middletown
Partial Warrior Sponsors ($2,000+)
A. Deidling Family | AK Steel | Array | B. Callahan Family | Dayton Defense | Dr. Doug Maclean, DMD Fundraiser | Eagles Lodge, Middletown #528 | Frito Lay | Halo for Freedom Warrior Foundation | Hoss Custom Holsters | JD Legends | John Marshall Bank | Lang Financial | Northrop Grumman Employees | Otterbein Retirement | Patriot Project | Potomac Psychiatry | Resources Exchange Association
Team Beast Monster Truck | Teksouth | Valor Vacations | Walmart
Blue Skies Supporters
American Legion Post 194 – Mason | BTAS | CALIBRE | Chipotle | Dayton-Wright AFCEA Chapter | Definitive Logic | Extermital Termite & Pest Control | Graeter's | J. West Family | P. Chakiris Family | Prime Cincinnati Restaurant | R. Goudie Family | S. Hanshew (Aircraft) | Sim-Trainer | Taft Stettinius & Hollister LLP | USO of Central & Southern Ohio | W. Manship Family | Warrior Bird Museum (Bomber)
Women In Defense Dayton – NDIA | Menya | M. Ruggiero Family Brixey & Meyer | Gilkinson Family | IB Logistics | J. Reynolds Family | LDSS Corporation R. Thome & Family | Wright Brothers LOA Chapter | Insperity | K. Yerkes Family | Yoko Co
What Our Warriors Say
One thing that I always take away from these events is discussing OUR Stories. One in particular was one I had with Air Force Major Tim O'Sullivan. As both of us are Air Force, we discussed the day(s) where our lives & careers changed forever. The comradery that we had talking at the hangar was very special to me. There are some things I can talk to my friends about what happened to me, but the guys and ladies who have been involved in Combat situations just understand what you're talking about and how you felt and still feel!!! I take comfort is that! Hope my rambling made some sense.
Wow!! We are on an emotional and spiritual HIGH! For the past five days we have had the most incredible, uplifting, heartwarming, and blessed time with some of the most Awesome people…True American Heroes, including Medal of Honor recipient CSM Bennie G. Adkins!! These Warriors have all given so much to the cause of defending the FREEDOM we all enjoy in this great Nation! Our family was honored to represent our son Marine Cpl Paul W. (Rocky) Zanowick, II and we were uplifted by being able to share this incredible "Weekend to Remember" with all the Honored Warriors and Gold Star families!! Our family would like to offer a huge Thank You to David and John Hart, Team Fastrax™, all of the sponsors of this weekend, all of the volunteers, and everyone we met and who touched our lives and made this special weekend happen! With all the turmoil that we have been living through since the loss of our son, we so appreciate and Thank You for "Insulating us from Isolation" on this "Weekend to Remember"! All our Love to you all!
Thank you so much for the invite. It far exceeded what I expected. Your whole entire team made me feel like one of their own. The program was amazing and what you guys have done for the Warriors was great. I am more than certain that we will be able to do something like that here in Colorado for the Warriors here. I have given my report on the event and how it just exceeded all expectations. Again thank you and your family for all that you have done and continue to do. God bless and I will keep in touch.
I am writing to let you know what an amazing experience I had being involved with The Team Fastrax™ W.T.R. Event. The most moving experience that I encountered was the Lima CO. Tribute! It differently set me back and made me think about a lot of things! It also sparked up some conversations that were long overdue to be expressed! I want you to know that being involved is an important part of my life, and recovery.   This event and opportunity allowed me to set attainable goals, and successfully achieve them despite my injuries.  I always look forward to the knowledge, laughter, experience, and the comradery that I share with the other Veterans whenever I participate in these type of events. I just want to thank everyone involved in making this event possible. I especially want to thank The Participants, families, the coordinators and everyone who made this possible because I understand how difficult it can be to logistically plan for bringing Vets and all their gear to Events. When coordinating with, Lodging, Gear and Chow. I understand the time and effort that you put into this event and I want you to know that the Vets truly appreciate and respect your effort. Keep up the good work.
See For Yourself How Amazing This Weekend Is